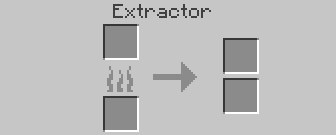 This picture illustrates the Extracting Furnace's Gui.
Requires 6 x Plastic Block + 1 x Furnace + 1 x Latex Extractor + 1 x Integrated Circuit
Extracting Furnace
Edit
The Extracting Furnace is even more useful to the avid smelter amongst you. It smelts slightly faster then a furnace, but still slower then a Microwave. However, it has the special ability to extract as well as smelt, meaning you can get two output items instead of just one, for some things (See Extacting Furnace GUI picture above). It can cook the same things the furnace can smelt, with some additions, such as ores giving stone as a second output, most meats giving gelatin or bonemeal as a second output, and many other items giving misc. second outputs.
Runs on Batteries, Redstone Dust, or Glowstone Dust.